Becoming Animal
Built in collaboration with Minimaforms
Becoming Animal explores the story of the mythical three headed beast Kerberos, guardian of the underworld. The objective of the piece is to create an environment of performance through the collective participation. Participants are performers co-evolving a theatrical interplay of curiosity and play. Each performer stimulates and communicates with the three heads of the Kerberos, triggering behaviour-based interactions and exchanges. Interactions are expressed through sounds, facial expressions and general activity of the Kerberos. The continued dialogue between users and the system exhibits emotive exchanges that communicate features of love, anger and boredom. Becoming Animal is an experiment in communication based on the human tendency to project life into forms that exhibit a complex and dynamic behaviour.
Becoming Animal was developed by Minimaforms in 2007 for the experimental sonic performance festival, Faster than Sound. The performance was installed as the entry to the festival, housed in the K9 building of Bentwaters Military Airbase in Suffolk, England.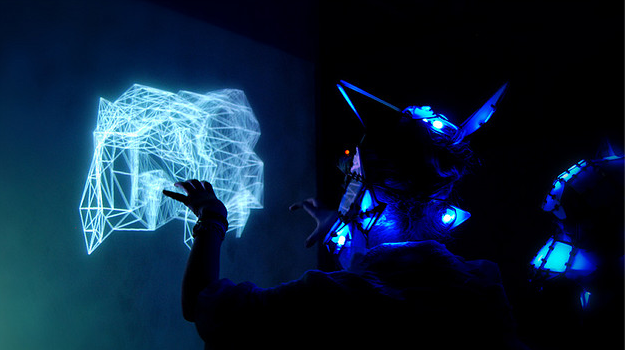 On display at the Museum of Modern Art from July 24 - November 07, 2011 as part of the "Talk to Me: Design and the Communication between People and Objects" exhibition.